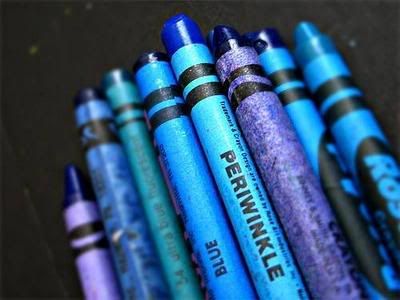 Dive into Spring's coolest hue—- BLUE. Whether you are hangin' on "Moon Beach" with Louis Vuitton (below) or workin' it out in Bottega Venetta (bottom), one thing is for sure you are sure to be singin' a new blues tune. From recycled cotton tees in cerulean to a sharp synthetic suit in navy, it's more than just denim that is the fabric of choice. So, dump out your crayon box, we are fascinated by every shade– periwinkle, midnight, pacific, and even cornflower. Who knew that our favorite primary had so many unique names!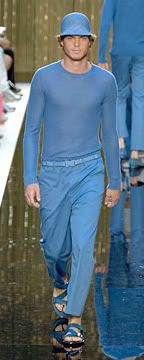 From the cool ocean water to the beautiful sky above, this season the designers were inspired by nature. As the world turns eco-friendly, green isn't the only pigment that will bring you back down to earth. But how do you make sure that you don't jump off the deep end when it comes to sportin' this royal shade?
Peaceful and serene, these "blue" pieces can be preppy, sporty, and ultra-chic when partnered with the right proportion of neutrals. Ralph Lauren stayed classic while Michael Kors got a little carried away- blotchy blue dye on bleached denim is a bit washed out! D&G took a note from Elvis and kicked off their ensembles with blue suede shoes inspired by Converse. Ted Baker defined tradition with the navy blazer over a pristine turquiose dress shirt, while Cavalli was all about Blue Hawaii- floral printed fabrics.
Just like in nature, it's all about a feng shui-like balance. Checkers to stripes to argyles, bold prints are making waves this spring too. The right combination of these patterns and solids can determine if you sink or swim. These transitional pieces will have you ready for summer too- even if you are surfin' the beaches of Maui or basking in the dry desert of Las Vegas– shorts that can be worn wet or dry are just plain- HOT!
Even Hollywood's hottest leading men are dye-ing to give this trend a try. Whether they are having a casual day out with the boys or struttin their stuff on the red carpet- from Adrian Grenier to Brad to Kanye, each of these hotties knows how to give a new meaning to "rhythm and blues". Here are a few Do's and Don'ts to help you find the right amount of blue for you!
Do. Layer a baby blue Egyptian cotton t-shirt by Giorgio Armani (available at Saks Fifth Avenue) under a bright, Prussian Blue and Midnight blocked sweater by Marc Jacobs (available at Neiman Marcus). For a relaxed approach try a plaid pair of shorts by Ralph Lauren (available at Dillards)
Don't. Wear acid wash jeans—please! Stick to your basic denim, remember distress is a mess!
Do. Pair a blue floral print shirt by Modern Amusement (available at modernamusement.com) with a clean pair of Denim by DSquared (available at Nordstrom)
Don't. Wear all primary colors together! This is about balance, not shock n' awe!
Do. Accessorize a basic ensemble with a bright bold watch and shoes. Try the Corum Bubble Men's XL Automatic Blue Watch (available at thewatchery.com). Stride into style with sneakers by Dolce & Gabanna (available at Barneys.com)
For the men who want to go blue without going broke, here are a few helpful tips. Pull of the Do's above for less and still have green left in your pockets.
Budget Do #1: Shop for a light blue T-shirt by Hanes (available at Target). Put it under a funky blue argyle hoodie by Vans (vans.com or any surf/skate shop). Pair this with navy cargos for a twist on casual chic.
Budget Do #2: Be bold. Floral and blue striped shirt by Lucky (available at luckbrandjeans.com). Kick back and relax with Converse One Star jeans in Deep Dawn wash (available at Target)
Budget Do #3: Watch out, here's a steal that is sure to please, Mossimo Automatic Blue Watch (available at Target). Get one foot ahead of the trend with these blue Converse sneakers(available at converse.com) You are sure to leave a lasting impression.
Popularity: 5% [?]