This Spring/Summer, femine flirty meets chic sophistication. This trend will definitely leave you in tiers. Yes, bright colors, ruffles, and florals are all important for Spring, tiers represent a more unique structure and balance to the garment. A blending of fabrics from gauze to chiffon, are elegantly draped to perfection. Take note, tiered pieces don't just come in the form of a gown or dress, you are sure to see tiered jackets and tops in an effortless horizontal manner that gives a regal element in a minimalist kind of way. The alternate simplicity of layers gives this romantic trend pure ethereal charm.
Getting the proportion right is the key. Too many rows can be a bit intimidating, so start gradual. You'd be surprised that each step can elongate the silhouette. This look will flatter all different shapes and sizes. Just remember to keep it simple. A few small layers in a top paired with your favorite skinny jeans will give you that girly touch you've been craving. When it comes to evening attire, remember this–the tiers should fall from the waist to the floor to create a waterfall-like illusion of length. You will be feeling like a goddess in no time! Volume and big tiers can be fun too, but only done in a diaphanous fabric so that you get the flowy, yet graceful-like feel. If you are still concerned you can't pull this trend off, here are a few tips to keep in mind. Avoid the "frumpy" look by not going too heavy on the amount of layers. If the dress is made with a bulky fabric and all-over tiers from the neckline to the hem, you might end up looking like a puff pastry– and that is not a good look.
From the catwalk to the red carpet, celebrities all seem to be fascinated by the Trail of Tiers. Stars from Iman to Carrie Underwood are all donning this decadent drapery. The intensity of the silhouette in a tiered ensemble may look statesque and gorgeous visually, but when it comes to accessories–its all about portion control. Be careful what accessories you choose to balance our this dainty number. Step up your style when pulling off this divine look by complimenting the flow of the fabric with a sexy sandal, a perfect pointed heel, or a sinfully strappy pump. Bypass big chunky pieces of jewels and keep it clean, beautiful, and classic with small hoops, studs, and/or cuffs.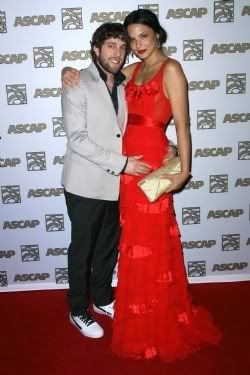 One thing is for sure, this trend will have you voted "Best Dramatic Ensemble".
 
 
 
 
 
 
 
 
 
(L to R: American Idol alum, Elliott Yamin, and his lovely girlfriend, Jaime Paetz)
Popularity: 5% [?]